December 8, 2017
Posted by:

fyber

Category:

WordPress Plugins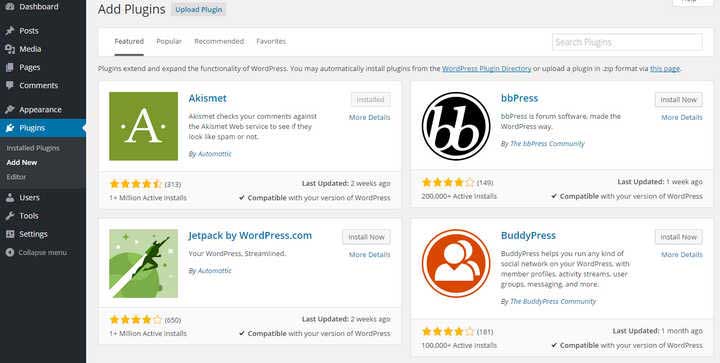 Why are WordPress plug-ins needed?
As you know, WordPress is a well-known open source Content Management System (CMS). It is a platform that gives you the flexibility to manage your WordPress site's content easily and effectively.
Since the development of WordPress, it has been widely used by many website developers, designers, individuals and business owners all around the world. With the help of WordPress, developers and designers are able to open doors for new innovations in the field of web development and design.
Also, to make your WordPress website function properly, there are plug-ins that come into play. WordPress plug-ins are small pieces of coded software which adds extra features and brings more advanced functionality to your website.
WordPress plug-ins are developed and can be customized as well. The plug-ins are available in different categories that cater to your website needs. Some people may use WordPress plug-ins for adding security to their website. There are, in fact, several purposes of plug-ins which does their part of work in your WordPress site.
What are the top 10 benefits of using WordPress Plug-ins?
There are various benefits of using WordPress plug-ins in your WordPress website.
To use WordPress plug-ins in your website, you don't require any technical skills as the plug-ins are coded to function when triggered.
Some plug-ins are created for added security, while others are created for your website's optimization and SEO ranking.
When using customized WordPress plug-ins that are developed by professional developed, you do not need to take tension about the security of your WordPress site.
With the help of professional and experienced developers, you can create plug-ins for your WordPress site which will help in getting links on your site from various reliable sources quickly and easily.
WordPress plug-ins have a higher level of security which is why it's able to protect your website from vulnerabilities.
WordPress plug-ins provides consistency and flexibility in their designs.
WordPress plug-ins are highly customizable as per your choice.
WordPress plug-ins allow for better social media integration.
WordPress plug-ins are capable of extending their functionalities as and when required.
WooCommerce is a plug-in which can be easily added into your WordPress website for seamless shopping.
WordPress plug-ins have provided great and demanding uses since its development over the many periods of time. It can also be said that plug-ins are the heart and soul of every WordPress site that is developed. It is responsible for enabling WordPress to power millions of websites across the globe.
As the competition is increasing each day in the online market industry, every online business owner wants to have a website which will help in giving their business an edge over their competitors.
Whether you want to improve the security of your website, boost the performance and speed of the site, provide backup or want to add shopping cart in your site, all these things can be easily achieved through WordPress plug-ins. It is a fine choice for individuals and business owners who are serious with their online business.